What's it all about to participate in the ATRC Tour category and also lead the group? DAD friend and guest blogger Andrew Clayton shares his insights and experiences with us.
First of all, let me say I'm not a professional racing driver and I'm not a driver trainer. I'm actually a consultant, clinical pharmacist who just happens to have a love of, and a knack for, driving quickly on tight, twisty, tarmac roads while being chased by some very good drivers in some very, very fast cars. I have a lot of experience on the mountain roads we use in these events and practice my skills with early Sunday morning drives nearly every weekend. Even when driving "normally" I see every corner as a chance to practice lines, accuracy, hitting apexes (or should that be apices??) and so on. I've done many track days and competed in many hillclimbs, and work part-time at Historic & Vintage Restorations in Blackburn simply because I love working on older cars (of which I have a few).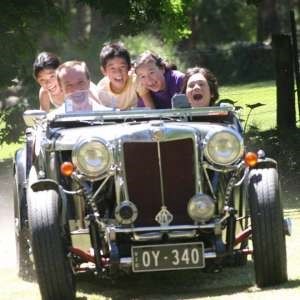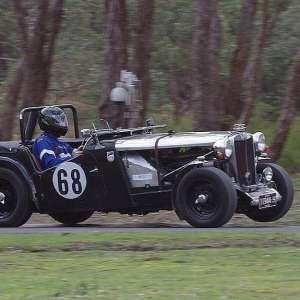 I've been involved with the touring section of the Australian Tarmac Rally Championship (ATRC) since 2014 and have done 15 events with them, starting off as a sweep vehicle and then becoming the lead driver about 3 years ago. I use my humble little 1992 Mazda MX5 which is mildly tweaked with intake and exhaust modifications as well as decent suspension and tyres. At first blush, it would seem under-powered, having only 1600cc and about 100kw when the cars behind can often have upwards of 500kw, AWD, race tyres, suspension, etc. but when it gets to the tight, twisty stuff, there is nothing better IMHO. Suffice to say I don't get too many complaints about the pace!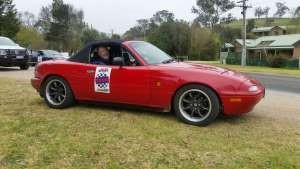 Overall, our main goal for the ATRC Tarmac Rally Tour events is to provide both an introduction to tarmac rallying and a safe and fun environment for car enthusiasts to enjoy their cars as they were designed to be used.
The events are tailor made for those who love driving fast on open, twisty and challenging mountain roads but even if you don't want to be at the pointy end of the field, you can cruise along at the back and nobody will mind. Whether your car is a classic old-timer, a modern, technologically advanced supercar, or something in between, if it's in good condition and capable of a "spirited" drive, then you are very welcome.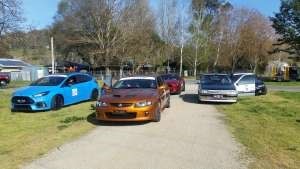 Depending on the size of the group, tour entries can be split up into Novice, Intermediate and Advanced sections. If you're new to the world of high speed, closed road driving, the instructors and leaders will help guide you through various aspects of vehicle setup and driving skills.
Topics such as vision, safe following distance, tyre pressures, brake pads, fluid suitability and brake fade, seating position in the car, steering wheel position and hand position, cornering, lines, entry, apex and exit speeds, braking and electronic aids, ABS, VSC etc. are all covered.
We also look at a little of the psychology of fast driving, and general vehicle knowledge. Even if you're an old hand, there's always something new to learn, or maybe you just want to practice your high speed driving skills and have a ball in the meantime.
During the stages, it's my job to drive quickly enough to be enjoyable for those who want to go fast behind me while still being safe. I can demonstrate lines and braking points for those who ask, and also guide newcomers through the various rules and regulations we have to follow in the tour.
I lead the group between stages at a safe pace and make sure everyone is ready to go when we are called up for the next stage. I help with briefings and other logistics where I can, and generally try to make sure everyone feels welcome and a part of the group. I try to have as much fun as possible because in the end, that's why we're all doing it, but we also have to recognise there are rules which are there for a reason and we have to follow them.
I absolutely love what I do and equally enjoy introducing newcomers to the world of tarmac rallying. Our groups always have a ball and generally don't stop smiling the whole weekend. Indeed, many come back again and again. There is a great social aspect to the weekend as well, and many stories are told and legends created at the Saturday night dinners.
So please give it a go. You'll be in good hands if you haven't done this before and if you have, then you know what a blast it is. Fast or slow, just go at your own pace, nobody will judge or push you. Hope to see you out there soon!