We couldn't do what we do without the help from volunteers.
If you're interested in helping out or fundraising for Drive Against Depression, read on for some ideas or to get in touch. Your involvment means the world to us.
There's usually some time between our seasonal and partnered drives. We're now ready to extend how we offer drive events, by inviting members of our community to also facilitate these.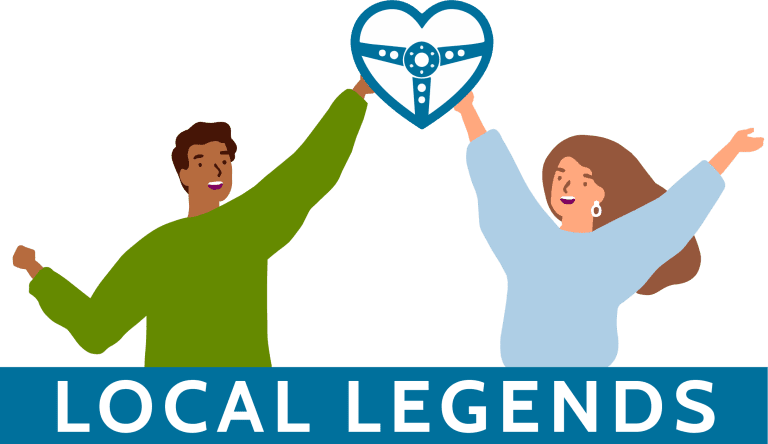 Over the years we've received many generous offers from legends in our community to put together drives, be involved, help with setting up an event and more. We love this, because it's our community being engaged with what we do and sharing the mission to expand DAD's reach.
We'd like to take you up on that offer. 
DAD is all about community, and Local Legends is our next step in supporting that.
Who is a Local Legend?
A member of the DAD community who understands the DAD philosophy and loves a drive!

Someone who is keen to facilitate a social drive. A mate or two or a larger group – it's up to you.

You don't need to be an event planner or a pro at public speaking. That's never been what DAD is about. It's always about connection, the enthusiasm for 

driving and community.

Ultimately we're looking for people who can share DAD's work by hosting a drive event in alignment with DAD's mission, in a way that's comfortable for them.
How It Works
Choose a date and have a think about where you'd like to start and finish.

Decide on a duration. Day trip and home in time for dinner or a weekender with an overnight stay?

Identify who your drive is open to. Your selected group of mates, your car club or the wider DAD community?

Set a drive route yourself, or contact us to use one of ours. There are a few options here:

Solo Planning.
If you're confident with drive route planning and know where you want to go and don't need much assistance, just keep in touch with us through your planning.
In Between.
If you have a rough idea of what you'd like to do but need some pointers. We can suggest morning tea and lunch stops and provide a guide for how to plan drive routes.
Drive Day in a Box.
We'll provide a fully mapped drive route, stop points, communications you can share with your participants, templates so you can monitor who's coming along and suggestions for running the day.
You can choose how much DAD assistance you need so you can keep it simple and enjoy what our drive days are all about – roads, cars and company.  
We ask for Local Legends days to be held in the spirit of DAD events – to normalise conversations about mental health and remain free from judgement and confrontation. We'll hook you up with some DAD merchandise so you're feeling legendary at your event and ready to cruise through an ace day.
The biggest question now is: Are you ready to head out for a drive as a DAD Local Legend?
We invite you to get thinking about what you could do to support mental wellness through the freedom of driving. A country cruise? City to surf? 4WD weekend? Familiar roads you know bring a smile? Whatever it is there's an option and we'd love to hear where you'd like to start.
Fill in the form below and we'll be in touch!
Of course, the natural inclination is to get a group together and go for a drive… and we are all for that! However, if you'd like to do something a little bit different, we have some suggestions below:
Motoring book and DVD buy, swap and sell
Host a garage-style, motoring-themed buy, swap and sell. A small entry donation and a percentage of sale proceeds can go a long way to supporting Drive Against Depression.
Endurance driving events
Many car clubs and other organisations offer showcase events that test team endurance and car preparation to the full. It's a great way to build camaraderie among a group of mates. Ask your friendship network to support your endeavours by donating an amount for the achievement of a distance or lap target.
Alternatively, take a look at what Paul and Bruce Dobney achieved during the 2019 Repco Reliability Retrail, which raised funds for Drive Against Depression. 
Spare parts and swap meet
Similar in feel to the motoring book and DVD buy, swap and sell theme, why not gather the car club together, ask for a donation at the gate, and line up some stalls with your no-longer-needed parts?
Movie night
Love a classic car movie? It could be Bullitt, it could be Senna… it could be Herbie. Host a group, load up on snacks, have conversations and connect for a gold coin donation.
Setup a Fundraising Page
Set up a Fundraising Page for your chosen project and then invite your friends, family and colleagues to get involved and support you. You can track how much money you have raised and keep people updated on your progress.
Even if you have only a couple of hours per month, every minute you can provide a hand contributes to supporting those with depression and anxiety. 
Fill out the form below, let us know how you'd like to help and we'll get in touch with you to discuss further.