The last two years have seen us pivot, redesign, rethink and reschedule more than ever before. Buzz words became a way of life. And while some of those now omnipresent words have stretched us to exhaustion and beyond, they also have us thinking.
Our community needs impactful mental health support in a way that resonates. We know that; that's why DAD exists… but how to continue to offer that in a dynamic and relevant way is a question we've been working to answer.
There's usually some time between our seasonal and partnered drives, and while we'd like to arrange them more often there have been some significant recent challenges in achieving this.
But we don't want that to stop DAD drives from happening… and here's where you come in!
Over the years we've received many generous offers from legends in our community to put together drives, be involved, help with setting up an event and more. We love this, because it's our community being engaged with what we do and sharing the mission to expand DAD's reach.
We'd like to take you up on that offer.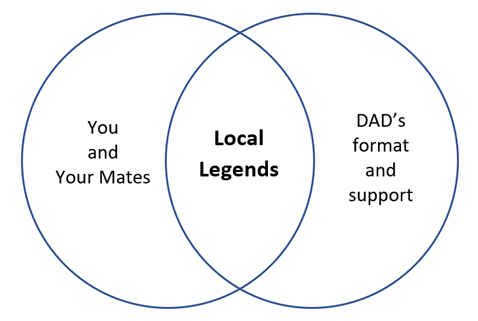 DAD is all about community, and Local Legends is our next step in supporting that.
As enthusiasts of getting out for a drive and being in the company of mates, so many in our community have drive routes up their sleeves, just waiting to be explored.
You may have a new car ready to be driven, a mate you've been wanting to connect with over a cruise, or a need to get something off your chest.
Let's put all that together with the DAD philosophy and get out there for a drive with a Local Legend.
We're ready to extend how we offer drive events, by inviting members of our community to also facilitate these.
What is a Local Legend?
A member of the DAD community who understands the DAD philosophy and loves a drive!
Someone who is keen to facilitate a social drive. A mate or two or a larger group – it's up to you.
You don't need to be an event planner or a pro at public speaking. That's never been what DAD is about. It's always about connection, the enthusiasm for driving and community.
Ultimately we're looking for people who can share DAD's work by hosting a drive event in alignment with DAD's mission, in a way that's comfortable for them.
Could you be a DAD Local Legend? We sure think so!
How It Works
Choose a date and have a think about where you'd like to start and finish.
Decide on a duration. Day trip and home in time for dinner or a weekender with an overnight stay?
Identify who your drive is open to. Your selected group of mates, your car club or the wider DAD community?
Set a drive route yourself, or contact us to use one of ours. There are a few options here:

Solo Planning.
If you're confident with drive route planning and know where you want to go and don't need much assistance, just keep in touch with us through your planning.
In Between.
If you have a rough idea of what you'd like to do but need some pointers. We can suggest morning tea and lunch stops and provide a guide for how to plan drive routes.
Drive Day in a Box.
We'll provide a fully mapped drive route, stop points, communications you can share with your participants, templates so you can monitor who's coming along and suggestions for running the day.
You can choose how much DAD assistance you need so you can keep it simple and enjoy what our drive days are all about – roads, cars and company.
We ask for Local Legends days to be held in the spirit of DAD events – to normalise conversations about mental health and remain free from judgement and confrontation.
We'll hook you up with some DAD merchandise so you're feeling legendary at your event and ready to cruise through an ace day.
The biggest question now is: Are you ready to head out for a drive as a DAD Local Legend?
We invite you to get thinking about what you could do to support mental wellness through the freedom of driving. A country cruise? City to surf? 4WD weekend? Familiar roads you know bring a smile? Whatever it is there's an option and we'd love to hear where you'd like to start.
Fill in the form below and we'll be in touch!
Until then,
Happy Driving