Written by Adam Davis: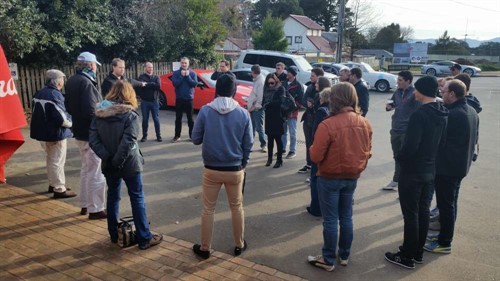 After being humbled by the support, interest and donations flowing from our April event, the follow-up Drive Against Depression took on a more intentionally charitable feel.
Sarah worked her administrative wonders as we designed a drive route that would entertain participants, while offering several chances to slow down and connect with each other; whether talking cars or the pressures of life, our drives are always about conversations.
The initial meeting point for our 29-person, 21-car drive day was the quaint Gembrook Bakery. Several doughnuts were destroyed during this exercise, accompanied by caffeine hits as we talked through the day ahead and welcomed Alan Heaphy as our special guest for the day.
Appropriately fuelled, our motley array dispersed to their steeds. From the latest hybrid Lexus LC sports car to a lovely collection of classic Jaguars, the wide range of cars being exercised certainly generated attention as we took off towards the Gembrook-Launching Place Road, Scotty leading the way in a very orange Toyota 86.
With Alex Rae snapping shots through the trees, the convoy steered its way through entertaining stretches of road, a brief regroup and passenger change near Powelltown a chance to pause for more shots and shoot the breeze, bonnets popping as laughter and a growing sense of camaraderie built.
The road from Powelltown to the Noojee Hotel for lunch had the little Renault Clio Cup 182 – the Drive Against Depression mascot – following Ryan and Laura's burly E39 BMW M5, the pulsing V8 reverberating off the forest line as our French Racing Blue Clio soaked up the corners and generally caused a nuisance of itself.
Simon from the Noojee Hotel was quick on the grille (again, Sare being a star and ordering ahead) as the assembled DAD crew took their reserved seats.
Sitting at the end of a long table gave time for pause – the animation in the faces fresh from an invigorating drive as they recounted stories of wrong turns, the new connections sharing their stories of struggle and triumph… this is exactly why these days exist. Then there was Alan Heaphy talking through his Le Mans engineering adventures, and just how fast the 1991 Group A Nissan Skyline GT-R was – a conversation those fortunate enough to hear it will never forget.
Bellies full, the day's formalities were completed in Noojee, but many continued the drive towards Mount Baw Baw, along some truly engaging Victorian tarmac. As Sarah climbed alongside Damion in the latest Ford Mustang GT, I was joined by DAD newcomer Rina in the Renault.
Through the switchbacks and over the bumps and cambers, Rina shared her own story. She also listened intently to the DAD mission, and explained how much she loved tracking her old Mazda MX-5… if only she had brought along appropriate driving footwear for this event!
As we drove through Icy Creek and to Mount Baw Baw's base, the smiles continued to warm up the winter's day, and as the crowd slowly dispersed Sarah, DJ and I were left with a glow: Our little idea was bringing happiness.
Until next time, happy driving!