Written by Adam Davis:
Wow.
As I stood on a rock in the freezing sleet, that was the word that came to mind as we assembled our DAD Winter Charity Drive participants for our welcome.
I was standing next to DJ, and my baby girls were alongside me. I couldn't see Sarah, thanks to the enormity of the crowd that braved Victorian winter to be with us on the Bellarine Peninsula.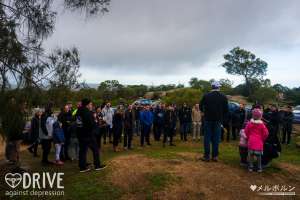 Somehow, we had squeezed over 60 cars into our meeting point, dodging ditches and puddled mud, particularly worried about the supercars in attendance braving slippy gravel and sharp speed bumps.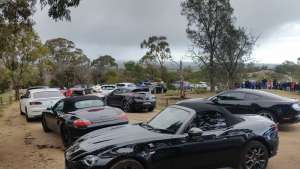 As usual, my meticulously prepared notes were ditched after the first sentence as excitement, nervousness and a near-overwhelming sense of humility took over. I think I managed to thank everyone fundamental in the event's organisation, as well as quickly updating the audience on Drive Against Depression's purpose, however the momentum almost overtook me and I nearly 'dropped the mike' before handing over to DJ for the all-important safety briefing.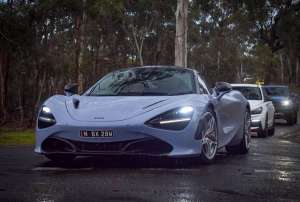 Participant bums back in warming car seats, I played traffic director as crews hit the road, grinning gamely despite the wind. Smiles, waves and light flashes symbolised the companionship that we seek on days like these, and I jumped in alongside DJ to head directly to the morning tea stop while the group enjoyed some lovely tarmac.This was an important time for me, as it opened my first deep conversation of the day. It was great to connect with DJ again on life beyond the charity and values in the classic car market!
Approaching Tiger Moth World near Torquay, it was apparent the owners of the cafe had settled in for a relatively relaxed Sunday. Eyes almost fell out of heads when we advised that they may receive 80 coffee orders over the next hour! We were grateful for the crew springing to action and warming the group up as they trickled in; everything from a Mazda3 to a McLaren 720S, the awesome-sounding Lamborghini Gallardo to the Honda Civic Type R that Sarah was driving, thanks to Honda Australia.
While entertaining the girls at the cafe playground (rain had temporarily disappeared) I took pause to observe. Groups huddled around cars, as is the norm, but there were several conversations between strangers assembled on the outdoor tables that went beyond the motoring menu… and that was what gave me the most pride.
I loved hearing the laughter, especially, a common theme throughout a day that not only normalised mental health further but also brought joy.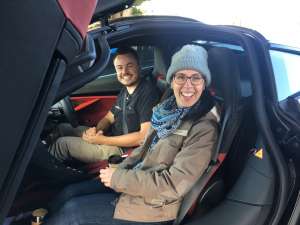 While I secretly organised a ride for Sare alongside ambassador Paul Maric in the McLaren, I again headed for the next gathering point. My dear Charlotte, who has been demonstrating much interest in the charity aspect of our lives at home, went to work – a six year old with a Drive Against Depression board and a jumping grin as she directed traffic.
With such incredible interest, we could easily have filled the entirety of the Queenscliff Bowling, Tennis and Croquet Club. The meal service was understandably manic, but again this challenge reiterated the impact our little space has had on people's lives. We had Directors serving meals and attendees kid-wrangling in-between the formalities, in an anxious yet somehow rewarding ballet.
Kara, the winner of our Treasure Hunt (for particularly observant co-drivers) was given a once-off prize for her efforts, with attendee John Hardie offering her a ride in his incredible E-Type Jaguar. The slightly breathless grin upon her return indicated the timewarp adventure she'd just experienced.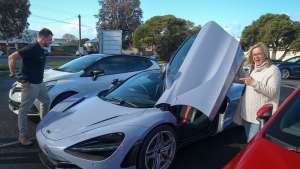 For the first time, Drive Against Depression also held a raffle, for a McLaren 720S passenger experience. It is these opportunities that build strongly on our community offer, and we sincerely thank McLaren and Paul Maric for organising this. Winner Lucinda was certainly amazed!
My favourite part of the day, however, was sitting again with Charlotte to say our goodbyes. New friends came and shook hands, thanking us for the day and the opportunity to catch up on their own mental health, and that of others. It was that genuine sense of kinship and connection that really hit home. Once the adrenaline wore off – I think for both Sarah and myself – the enormity of the event really hit us… as well as the impact we can continue to generate with Drive Against Depression. Wow.
See you at the next drive.
AD
Photo credits to Drive Against Depression, Anthony Raudino, Ben Pritchard, Steuart Meers and Geelong Exotic Car Club.