Written by Adam Davis:
We have humble beginnings and a humble mission, and between our grand plans for the services we can provide that's really what we come back to.
It's what keeps us focused and inspired and it's what keeps us pushing forward on what is proving to be a very interesting learning curve.
It's what keeps us going when the days are long and the nights are full of whizzing thoughts and planning and a touch of anxiety as we commit our best to serving our mission.
The Drive Against Depression purpose is to increase awareness about mental health in Australia and start conversations to remove the stigma around mental illness.
We're connecting people through a shared enthusiasm for motoring and offering judgement free, non-confrontational opportunities for like-minded people to catch up with old mates, make new friends and enjoy the pleasure of hanging out with their car.
And that's really the core.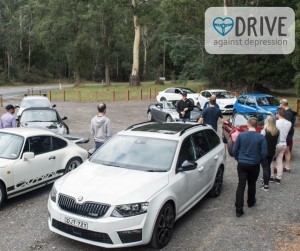 This picture is a favourite. It's from one of our earliest drives and shows what we're about:
Friends. Connections. Fresh air. Cars. Conversation.
And giving yourself an opportunity to refresh your headspace by putting all these things together.
If you've wondered why we're here and what we are – that's basically it.
We're truly grateful for the support of every individual, every car club, every event, every venue and every business who supports us and our mission. We've met some fantastic people, many of whom we now call friends.
We notice every social media like, follow, comment and share and we are humbled every time we have reached out to someone.
There are several Drive Against Depression events in the pipeline for the rest of 2018 and we're excited to share them with you as they develop.
The Facebook Group is kept updated with discussion and chatter (you're welcome to join if you haven't already), and big announcements are sent through the newsletter list as well as Facebook.
Please drop us a line via connect@driveagainstdepression.com.au if you have a car club, social group or business you'd like to connect with us – we are open to sharing our message and supporting the community in lots of different way.
From our crew to you – thank you.
Until next time, happy driving.
The DAD Team.